Having a portable speaker can definitely be an astonishing, one of a kind experience. This allows you to take your music with you anywhere you want and it's just a very refined way of relaxing yourself. However, while there are many types of portable speakers out there, the URPOWER IPX7 Waterproof Bluetooth Speaker is indeed one of the most interesting models on the market because not only does it have a great design but it also delivers some other great features as well!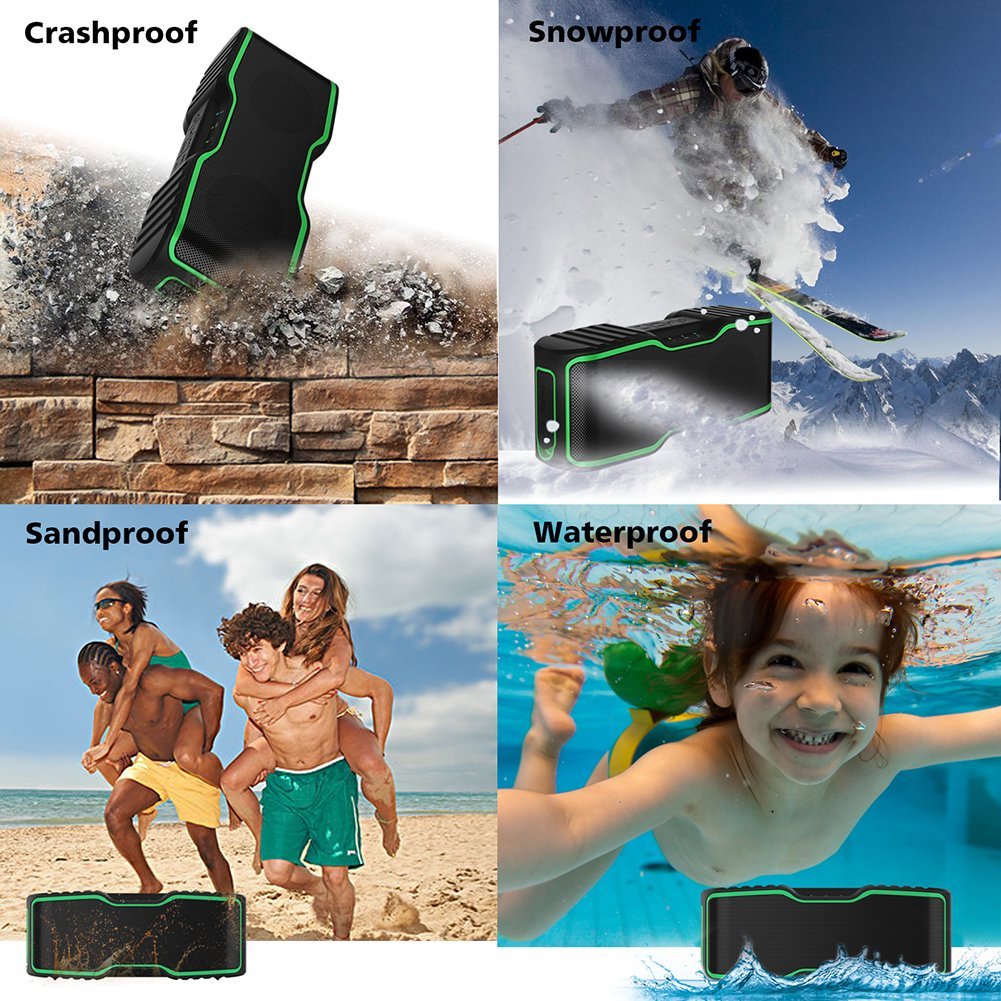 Design
Right from the start you will like the design of this product it looks amazingly well and it really is something unique and special that you can rarely find anywhere else. The combination of black and green is wonderful and the buttons found at the top, right in the middle, make it very easy for you to access the device's features at any time.
Features
The best thing about this URPOWER IPX7 Waterproof Bluetooth Speaker is that it has water resistance. The reason why this product is very good is that it has a shock proof, rugged and dust proof design that helps protect the device against the elements. Plus, the fact that it's waterproof makes it easy to carry around and you don't have to worry about damaging the speaker.
One interesting thing to note is that the speaker will stop playback when it gets submerged into the water and it will resume when you get it out of the water. Thankfully, there are no chords involved here as well. The product connects with your phone via Bluetooth and all communication is made wirelessly which means that you don't have to worry about tangling chords or anything like that. The Tap To Pair and NFC technology delivers an instant connectivity that will indeed make the product suitable for all types of music playback.
Quality and performance
You will like the fact that the overall sound quality is very good for this product. In fact, it manages to shine quite a bit because you get a crystal clear sound quality as well as a very robust bass. The passive subwoofer and high performance drivers are delivering a stellar bass and the entire result is very well worth it due to that thing alone.
The device does have a mic that helps you do hands free calls and the call quality you get here is really good as well. They also added support 4 languages which is a nice extra that might be very useful for some people as well.
One of the things you might not like is that the battery charging time is 3 hours, quite a lot to be honest. Thankfully, once you get it fully charged the device will play back songs for 12 hours which is really good.
They do have 2 cables coming with the product but overall the package is pretty basic as you just get an audio cable, USB cable and manual. It's important to note though that the device works within temperatures between -20 degrees Celsius and 60 degrees Celsius, so it does resist to heat and freezing.
Conclusion
Overall, you will see that the URPOWER IPX7 Waterproof Bluetooth Speaker is a great investment especially if you want to purchase a good quality speaker. Granted, it does have a long charging time but the battery life is good, it has a dedicated microphone and it even allows you to submerge it for up to 7 feet deep. You do get a really good value for money with this product, so you should consider checking it out right away if you want a waterproof and portable speaker!